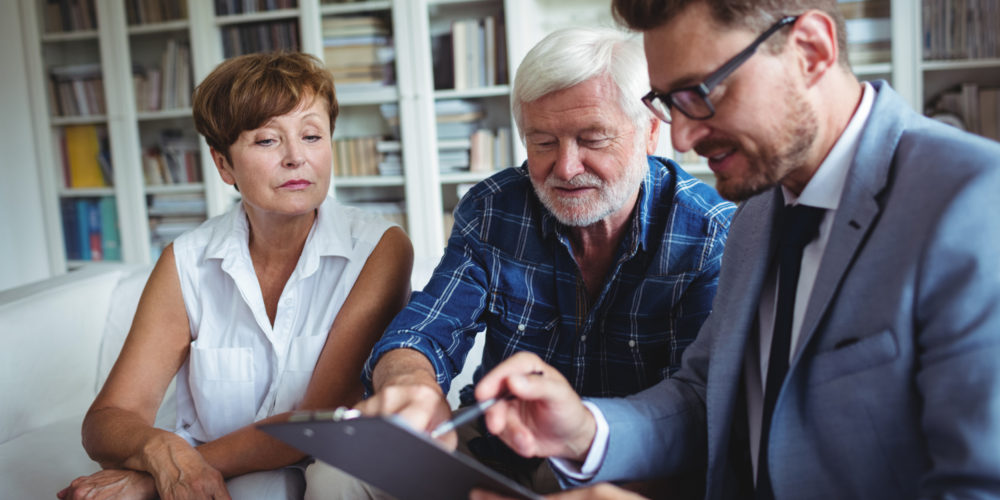 5 Estate Planning Documents You Need in Retirement
Researching or planning to move to a retirement community? Considering a Life Plan Community (also known as a Continuing Care Retirement Community)? Is it a wise move for seniors, financially speaking? Perhaps! In either case, it's essential to put estate planning on your to-do list while you consider your next steps. Here's why:

You'll be prepared for whatever the future holds

You won't be placing the burden on your children or other family members to deal with matters down the road

You won't have to make last-minute financial decisions while dealing with stressful life events or health issues

Decisions about your estate will not be left to the government to make for you.
Being prepared for "what ifs" can bring peace of mind throughout your retirement and will keep you prepared for all circumstances.
Creating & Updating Estate Planning Documents
The following documents are what is frequently used for estate planning. It's important to compile these and update them as necessary. Be sure to consult with your tax adviser or trusted attorney to help you prepare these documents and ensure you have all your "bases" covered.
1. Durable Power of Attorney
Who's going to act on your behalf should you become incapacitated? A power of attorney is a legal document that allows you to appoint an agent to act to your behalf if you become physically or mentally incapacitated. Your power of attorney can:
Make healthcare decisions

Sign legal documents

Conduct financial transactions
It goes without saying that your power of attorney should be someone you trust and has your best interests at heart. Without a power of attorney, the court can make decisions about your assets or healthcare—and you certainly don't want that.
There are four types of power of attorney, but for sake of estate planning, it's recommended that you have a durable power of attorney. Below is a side-by-side comparison of power of attorney and durable power of attorney.
General power of attorney (POA)—ends on your death or incapacitation unless you cancel it before then.

Durable power of attorney (DPOA)—can be general or limited in scope, but remains in effect after you become incapacitated under certain circumstances. Today, most powers of attorney are durable.
2. Advance Medical Directive
Next up on the estate planning document list is an advance medical directive, which allows you to:
Name one or more individuals to direct your medical decisions if you're unable to do so

Outline your preferences for medical treatment and care

Express your desires related to end-of-life care
3. Will
What happens to your money and property when you die? In estate planning, it's vital that you draft a will sooner rather than later and keep it up to date. Passing away without a will (also known as dying intestate) allows the state to determine how your assets will be distributed. What are the key points in a will?
Minors
Name guardians and back-up guardians for any minors

Decide who will provide care and financial support
Assets
Determine who should receive any property you currently own

Name the recipient(s) of specific possessions
Executor/Attorney
Name an executor of the will and a contingent executor as back-up
Hire an estate planning attorney to create the will; sign the will before a witness
"For estate planning in retirement, I can't stress enough the importance of keeping a will up to date. Circumstances and relationships change over time. An up-to-date will will ensure your assets are distributed as you wish."

—Cynthia Keith, Executive Director of Investments of Oppenheimer
4. Letter of Instruction
A letter of instruction typically accompanies your will and expresses your wishes on such things as your burial or where to locate other documents. You'll sometimes hear it called a letter of intent. While it''s not legally binding, it gives you an opportunity to say things you'd prefer not to make public since the letter remains private.
5. Living Trust
Investopedia defines a living trust as a "legal document, or trust, created during an individual's lifetime where a designated person, the trustee, is given responsibility for managing that individual's assets for the benefit of the eventual beneficiary." It's also known as a revocable or inter vivos trust, and functions while you're alive. It can be changed or revoked at any time while you're alive.
What's the benefit of a living trust?
You control the property in the trust and can change it at any time, transfer assets out of the trust or end it altogether.

It permits assets such as property owned by the trust to avoid probate, because it's not included in the probate estate.

It can help minimize federal estate taxes.
A word of caution: Living trusts do not generally minimize estate taxes or protect property from future creditors or ex-spouses. Again, consult with your tax adviser or attorney.
Bottom Line: Estate Planning for Seniors is a Must
As retirement nears, it's important to create an estate plan to protect both your assets and yourself. It's also key that you consider where you'll spend the next stage of your life. Is a move to a Life Plan Community or independent living in a Continuing Care Retirement Community like Carsins Run right for you? Learn more today to make an informed decision about your future.