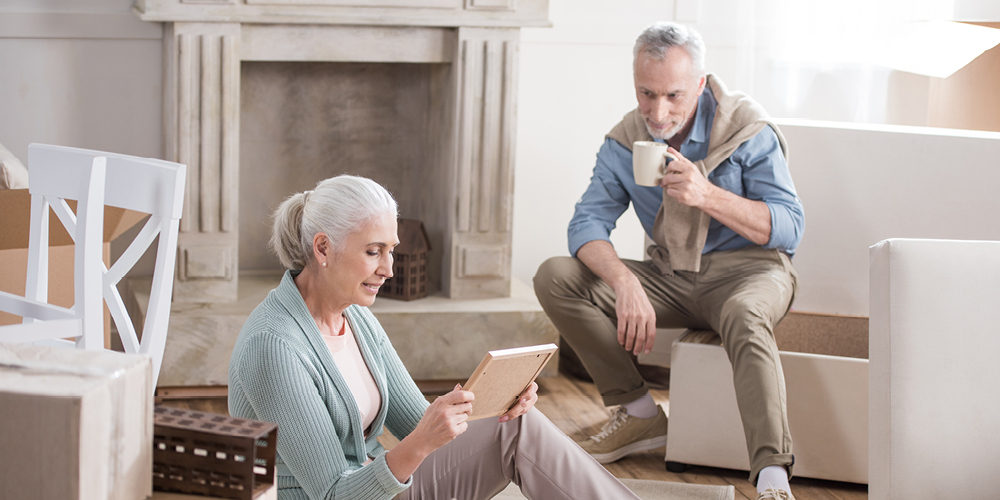 Downsizing Tips for Seniors
You're an active senior, but nowadays, you find yourself with just too much home to handle. Perhaps you're considering downsizing to a condo or an independent living apartment in a Continuing Care Retirement Community like Carsins Run.

It's time to face the challenge of sorting through your stuff. But that's easier said than done when so many of your things have memories attached to them. Here are some helpful tips on how to downsize before moving to a retirement community—or anywhere.
Best way to downsize for retirement
Get excited: Even though this may not be an easy or quick process, keep a positive attitude and focus on how wonderful it will be not to worry about so many possessions. You'll have more living space to enjoy, and with less time spent on maintenance and cleaning, you'll have the freedom to spend more time on hobbies, recreation or travel.

Start early: Downsizing can take months. It's best to start the process now even if you aren't ready to move just yet. This way you'll be prepared when the time comes, and you'll have less stress trying to worry about getting it all done in a tight timeframe. By getting rid of stuff now, you'll also remove the burden from your children to manage the downsizing process for you in later years.

Take your time: It can be a very emotional process to confront years of accumulated keepsakes, pictures, paperwork and household items. You'll want to keep stress down so you don't feel overwhelmed. Giving yourself enough time to evaluate your belongings is important to avoid regretting parting with something under pressure. You'll also be more productive and a much happier camper by keeping your sorting down to around two hours at a time and taking frequent breaks. Scheduling a day and a time to declutter, even once a week, will help you make the task a priority and continue to make progress.
Categorize: Go through drawers, shelves and closets and create drop zones of similar items. Once that's done, it will be easier to go through each area and determine what you can get rid of.

Organize: What are you keeping? What has to be trashed? The three box rule is a great way to start making decisions. Label 3 large boxes with Yes, No and Maybe. Reevaluate what you place in the Yes box—this box is the easiest to fill, but keep in mind, your goal is to declutter. Also try keeping the Maybe box as small as possible to avoid having to go through everything a second time. Color coding with duct tape is also an easy way to visually separate your belongings. And, if you have helpers, it ensures the wrong box won't get tossed. Put red duct tape on the box with the things you want to keep. Green means go—out the door. And yellow means you're not quite sure what to do yet with those items.

Digitize: Scan photos or take them to a print shop to turn them into digital photos. Digital photos allow you to view or share them quickly at any time. You'll probably find you have blurry or duplicate photos or even photos of people you don't remember. Throw them out. If you plan on making a scrapbook soon, keep the photos. But if it's something you never get to, then it might be a good idea to digitize them now, and print them again at a later date. Take pictures of sentimental items to preserve the memory without having it take up space. If you have stacks of CDs or DVDs, consider streaming music and movies online instead.
"Keepsakes are important, but you don't have to keep everything, especially if you're moving to a smaller place. Go through old letters, your kids' art and other mementos and decide what you need to keep and what you can part with. Consider getting advice before you start giving things away. The things you think have value often don't and the things you think are worthless frequently are not."

—Downsizing expert Charna Kinneberg, RN and Owner of Senior Transitions
Give to kids: Give back any of their things still hanging around your home. For all those things you plan on gifting to your kids, it's better to ask now what they actually want and let them take it off your hands! You may find your children or grandchildren don't actually want that antique couch, fine china set or jewelry you've been saving for them.

Let go of unused items: If you haven't used it in the past six months, chances are you won't be using it anytime soon. That goes for furniture, kitchen utensils, tools, clothing, purses, shoes, sports or exercise equipment, knick-knacks or gifts you have received that you feel guilty parting with.

Gift books: Nobody wants to throw away a good book. But if you're not going to read it or you've already enjoyed it, give it to your local library. There are still some bookstores around that take used books, so also consider donating it to your local bookstore.

Shred: Collect old documents with sensitive or personal information in a separate box. Shred a bunch at a time, otherwise, the job becomes too overwhelming. Be careful not to discard tax returns or old documents that you still may need. (Speak with your tax attorney or advisor before shredding.)

Sell: You might be able to make some extra cash and sell some things on Facebook Marketplace, Craigslist, eBay, Esty, or the phone app Offerup. Not sure how this all works? Don't be afraid to check out the support button on each application or website or ask your kids for help. You can also opt for auctions or estate sales through MaxSold, all of which are happening virtually these days. There are also consignment shops, albeit they're becoming extremely rare.

Donate: Goodwill, The Salvation Army, Habitat for Humanity, AMVETS, libraries and bookstores will surely appreciate your charity. You may even get a tax deduction.

Haul: Call a hauler or trash removal company like 1-800-GOT-JUNK, a company that removes furniture and trash. Check out the yellow pages or ask your neighbors, too. Often, word of mouth is the best referral.
Make downsizing fun
Downsizing doesn't have to be tedious. In fact, you can make it a pleasant experience by finding a comfortable place in which to work. When going through papers or shredding, for instance, why not sit on the porch or patio, sip a cup of coffee while listening to music? Just have all the tools you need nearby such as boxes, garbage bags, notepad, pens, sharpie duct tape.
Most importantly, go easy on yourself. Figure on two weeks to a month for each room in the home. You may want to take a "before" and "after" photo to show how much you've accomplished. After all, downsizing and decluttering can seem like an overwhelming task. With a picture in hand, you'll get a true sense of how much you've achieved.
Next step—independent living!
With all the "heavy lifting" done, you can now start focusing on the next stage of your life—perhaps the best time in your life.
"Once we downsize from our house—which is going to be a task—but once we do it, we'll never have to do it again. After we move into Carsins Run, we'll never need to move anywhere else because it's a Continuing Care Retirement Community all levels of healthcare will be available to us on the same campus."

—Roberta & Paul Jung, Future Residents
Carsins Run welcomes seniors aged 60 and better to enjoy active, independent living. For more information about Carsins Run to see if it's the right move for you, contact our sales counselors—and be sure to ask about our free educational seminar on downsizing in retirement.