Meet Charter Member Resident Mary Boehly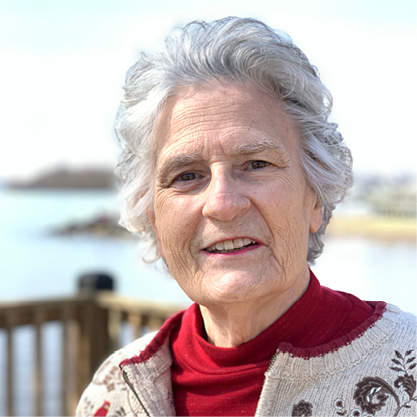 "I'm so excited about Carsins Run! When they're ready to start digging, just tell me when to show up and I'll come with a shovel!"
Mary Boehly can't say enough good things about Carsins Run—and neither can her CPA. Mary did her homework before signing on the dotted line. She checked out the Board of Directors. She also reviewed the construction and financial plans—and she asked her CPA to check them out as well. "He came back and said Carsins Run passed with flying colors!"
Mary chose the Bynum floor plan. Here, too, she did her homework. "I studied the apartments. At first, I chose a smaller apartment, but then I decided to upgrade to the Bynum 1 bedroom, 1 1/2 bath because Carsins Run is going to make an adjustment for me—for the half bath. During construction they are going to plumb the wall and skip the fixtures. They'll leave it open so I can put my treadmill and bike in there. This way, if I'm in my pajamas and don't want to get dressed, I can exercise in my home. And later, if I decide not to have the equipment in there, I'll have plenty of extra room!"
Safety & Security
Mary was also impressed that Carsins Run's administration has a proven track record, referring to the former community in Towson—Presbyterian Home of Maryland. Also on Mary's list of "likes" is the safety and security plan..."Carsins Run will know who's on the campus at any given time—and that makes me feel safe."
The continuing care aspect also played a role in her decision to move to Carsins Run.
"Underlying in my decision was the security of knowing that if I have a health event, I'll have the resources at Carsins Run to care for me."
Carsins Run checked all the boxes for Mary including location. Currently, Mary resides in Havre de Grace, a town she absolutely loves and has called "home" for many years. Carsins Run will put her just 15 minutes from the town. "I can go there whenever I'd like and be close to my friends. This will be perfect for me!"
Home Free!
Mary looks forward to leaving the maintenance of a home far behind. "I'm looking forward to shedding the burden of home maintenance as well as keeping a house together. Plus, I won't have to worry about raised property taxes or utilities. I'll still have my car, phone and insurance to pay—and if that's all I'll have to worry about, I can manage that!" she laughs.
Since 2001, Mary has been retired from the National Institutes of Health (NIH) in Bethesda after a 30-year career. She also held positions with Health & Human Services, the FDA and Marine Corps, all in personnel and payroll.
Today, she volunteers at her church, at the tourism office of Havre de Grace and on the city's Street & Traffic Safety Advisory Board. Don't expect Mary to be slowing down when she makes the move to Carsins Run!
To say Mary is excited about her future at Carsins Run would be an understatement. "I can't wait to move in!"