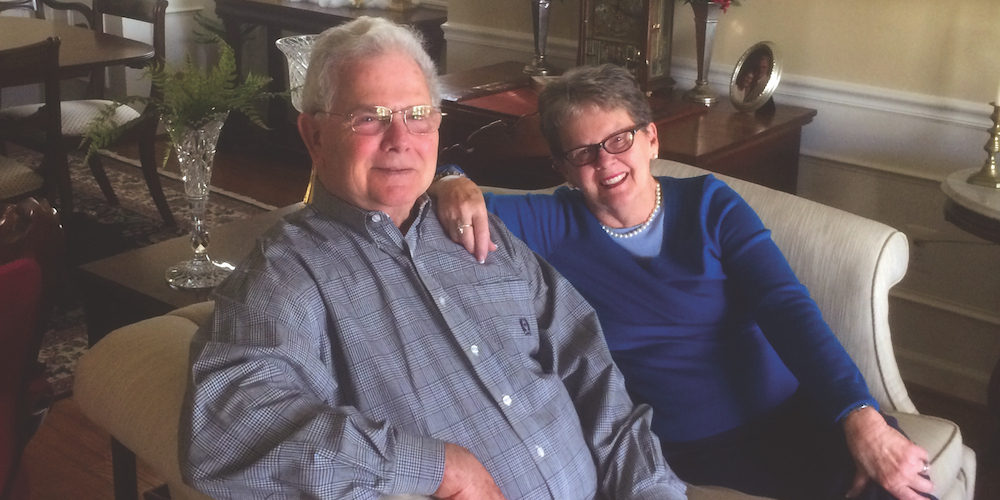 Meet Our Charter Member Residents Don & Nancy Burlin
Don and Nancy Burlin are enthusiastic Charter Residents of Carsins Run at Eva Mar. Having already made their deposit on their future residence, these energetic retirees are eager to begin the next chapter in their lives at the new community.

"We wish it would open tomorrow!" Nancy says emphatically.
Nancy, a Harford County native, and Don, originally from Cecil County, are long-time residents of Bel Air, Maryland and have been blessed with a lovely home, good health, fulfilling careers and many children and grandchildren. Nancy is active in her church. Don is an avid flower gardener and volunteers at church weekly. Despite all of that, however, Nancy admits, "Don and I are ready for a more relaxed life."
The couple is looking forward to saying goodbye to housekeeping and maintenance chores. "And won't it be nice to have dinner prepared for me, right down the hall?" Nancy asks, chuckling.
The Burlins chose Carsins Run at Eva Mar based on their own extensive, first-hand knowledge of the Continuing Care Retirement Community (CCRC) concept. They were impressed with the remarkable lifestyle and care received by close family members who lived at three different continuing care retirement communities in central Maryland.
"I decided 20 years ago that I would love to spend my later years in a place like that," Nancy remembers. However, she says that she had one non-negotiable requirement: "I was NOT going to Baltimore County!"
Carsins Run at Eva Mar solved that problem for Nancy. It allows her and Don to be close to their children and grandchildren, maintain friendships, continue going to the church they love, and keep their local doctors.
Nancy and Don also love the size of Carsins Run at Eva Mar. Unlike other CCRCs they have seen, "It is not a high-rise, and it's not too big," they say. They prefer its "smaller community vibe," which they feel is more homey, and enjoy having trees and nature around them.
"I don't just think it's right for us. I am sure it is!" Nancy insists.
Nancy and Don advise anyone who is making plans for their retirement years to consider Carsins Run at Eva Mar. "They should come to one of the nice luncheon presentations. It's very non-threatening—no time limits or pressure—and the people are wonderful," explains Nancy. "You'll have a fun time and a delicious lunch, and you'll learn a lot."