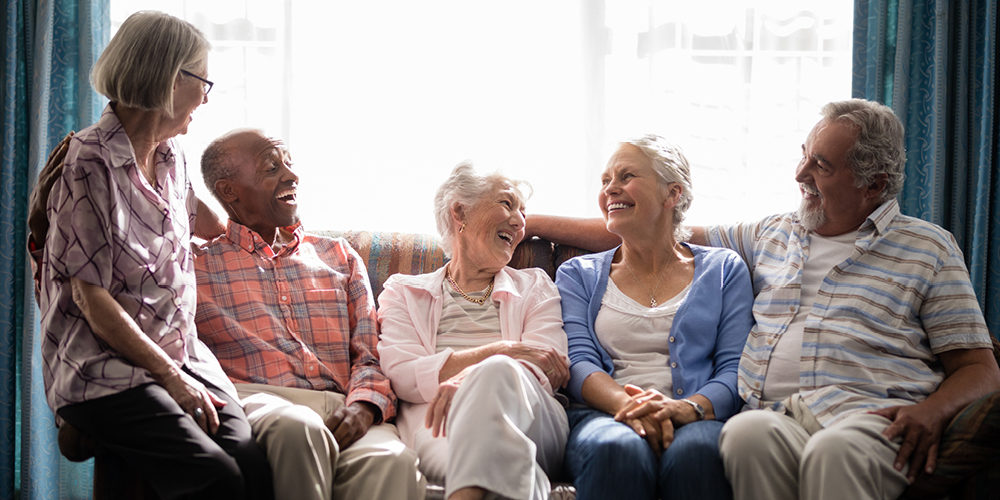 What's the Difference Between a 55+ Community and Life Plan Community?
These days, adults and seniors have so many choices in living styles. Do you move into a 55+ community (also known as an Active Adult Community) or opt for a Life Plan Community (also known as a Continuing Care Retirement Community or CCRC)? What exactly is the difference? Which is right for you?

The ins and outs of a 55+ community
Obviously, a 55+ community is for individuals 55 and older. There are no rowdy kids to disturb your peace at home, at the pool or on the streets. Just active adults who want to enjoy the next stage in their life in the company of older individuals like themselves. That's why it's often called an age-restricted active adult community.
Typically, 55+ communities are gated with security patrols and neighborhood watches.
The homes or apartments are usually single story to accommodate aging knees, handicaps and even wheelchairs.
Recreation is also a big part of the 55+ offering:
A clubhouse or community center offers a variety of activities and facilities including a pool, card room, exercise and art classes, and even movie nights.
Each subsection of the community may also have its own smaller version of the clubhouse with a pool and showers.
Some communities are built on a golf course for residents.
Activities may be included in the price of the home and Homeowner Association (HOA) fees. HOA fees may also cover basic maintenance of common areas and driveway areas. You'll never have to mow, it's all done for you—that's the beauty of 55+ apartments and homes. However, you will be responsible for the upkeep of your home, such as a new roof, air conditioner repairs, etc.
While this may sound appealing, there may be downsides to a 55+ community:
The HOA may be a bit too restrictive, putting a damper on your choice of paint colors for your home's exterior, telling you where you can or can't park, or restricting the types of greenery that can be planted in your front yard.
Some 55+ active adult communities may ask that you pay club memberships to take advantage of clubhouse facilities.
As for healthcare, 55+ communities have minimal onsite healthcare, if at all. Most do not provide assisted living or nursing care options . And, if you'd like a grandchild or someone under the age of 55 to be your caregiver and live with you, the age restriction simply won't allow for that.
The Life Plan Community difference
Now let's consider a Life Plan Community. Here, those 60 and older are welcome and if a spouse is younger, they are "grandfathered" in.
And, just like the 55+ community:
Newfound friends await within the Life Plan Community campus.
The community is built with older individuals and seniors in mind to accommodate wheelchairs, walkers and scooters.
You have your choice of whether to get involved with planned activities such as day outings and exercise classes, or simply to enjoy time alone in the comfort of your home.
Financially speaking, there is an entrance fee, which may be tax-deductible (speak to your tax adviser for details). A monthly fee typically includes a long list of services and amenities. For example, Carsins Run offers:
Flexible meal plan and a variety of dining options on campus
Meal delivery to your home when you're not feeling well
Last-minute grocery items at the Grab-and-Go in the Barrington Bistro
Housekeeping services
Walking trails and beautifully landscaped outdoor areas to explore
Transportation to local shopping and doctor's visits
Fitness center and other physical health options
Book clubs, happy hour, painting parties, etc.
But here's where a Life Plan Community really stands out. An individual in a Life Plan Community can move from independent living to assisted living without moving out of the community. Life Plan Communities such as Carsins Run also offer Nursing and Memory Care.
Simply put, you have a full continuum of care for every stage of your life virtually under one roof. That's peace of mind you simply can't get at a 55+ community.
"It makes sense to live in a residence with a full spectrum of care where you can easily make the transition to assisted living without having to move to another community."

—Diane & Jerry Alsid, Carsins Run Future Residents
Do your homework, then make your move to independent living
Which retirement community is right for you? It's important to do the homework before making a decision on a move to a 55+ community or Life Plan Community. Crunch the numbers and take a tour of both types of housing and services options.
Learn more today about Carsins Run, the first and only Life Plan Community in Bel Air, Maryland.